I should declare an interest. I've known and admired Chris May of Overwater Guitars for many years and I'm not alone in regarding him as one of the world's finest bass guitars makers. In fact, I own one of his instruments. This interview was the start of the bass half of an occasional parallel series, running in the UK magazines Acoustic and Bass Guitar in which I profile some of the world's great instrument makers. The series for Acoustic began with Chris Martin of Martin Guitars and continued with Kim Breedlove (both are available elsewhere on this site). The UK's Roger Bucknall, of Fylde Guitars comes next. Chris May inaugurated the series for Bass Guitar and he will probably be followed by Rob Green of Status, at some stage in the future. This interview appeared in Bass Guitar, issue 29, published in February 2007.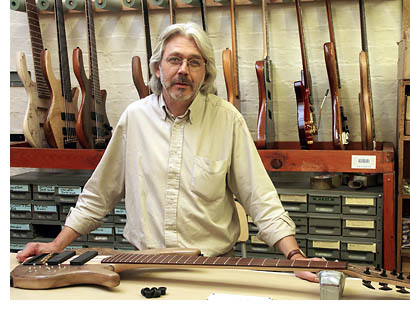 As it tends to when someone has spent his life dedicated to a single pursuit, it clearly comes as a bit of a surprise to Chris May, the founder of Overwater Guitars, when it is pointed out to him that, celebrating 25 years in the business, he has probably been making bass guitars longer than anyone else in the UK who is still in business. It hasn't always been an easy run, he will be the first to admit, but there must be something rather special about both the man and his basses that has enabled him to stay so successful for so long. Few bespoke luthiers manage to survive a decade, let along a quarter of a century.
Things were different, of course, back in the 1970s, when Chris May first started making and selling instruments. In those heady days, people managed to bumble along starting (and closing) businesses on tiny sums of money. There was little government regulation to get in the way ("health and safety" hadn't been invented), so it perhaps isn't surprising that he was able to make and sell a few instruments. But they must have been pretty good, even at the beginning, for him to have advanced to the next stage.
'I made my first guitar at school, in Hampshire in about 1965, as a woodwork project,' he recalls. 'The other kids made desks and bookcases and so on, but I made an acoustic guitar out of marine ply. It was absolutely dreadful, of course! The first electric instrument came later, when I entered a competition on the back of a cornflakes packet to win a Burns Bison. Of course, I didn't win, so I cut out the picture, scaled it up and made a copy - again out of all the wrong materials. And that was dreadful, too! Then my Dad said it was time I took this a bit more seriously if I was going to keep on making guitars, so he prompted me to get some plans. And so, in his workshop in the garden at home, we made a sort-of Les Paul, which actually had the frets in the right place and actually played.
'I suppose the breakthrough came a year or so later, when I was in one of those typical situations when there were three guitarists forming a band and because I was the worst I got nominated to play the bass - which I didn't have, so I made one. I kept it simple, and copied a Vox Phantom, like Bill Wyman played and that was my first bass - made in about '67 or '68.
'That was it for a while as I got more interested in playing. By the early seventies the mobile disco had killed-off the village hop and I'd graduated to Folk clubs, playing acoustic guitar, which was when I went to see the famed guitar maker, Tony Zemaitis, and commissioned him to make me an acoustic - and that was the first time I had ever met a guitar maker. As an aspiring musician who wasn't getting anywhere, this inspired me to think maybe I could actually become a guitar maker myself.'
By now living in London, a few guitars were made in his spare time and then came a complete change of culture, when he moved to Northumberland. 'It was the era of getting your head together in the country and keeping a goat,' he laughs 'and I actually had one, Nellie, along with six ducks and a lot of chickens. I also had a workshop at the back of a village hall, where I started making guitars. I expected people to beat a path to my door and, of course, they didn't, so a year later I applied to go to Durham University and to augment my grant, I set up a workshop just outside Durham and that's when I started doing it seriously.'
Like many luthiers of his generation, Chris learned his trade not by serving an apprenticeship (there weren't any), but by doing as many repairs as he could get. He rapidly built a circuit of Northern music shops, which he would visit to collect instruments for repair. It was on that circuit that he met Andy Preston (the Andy of Andy's Guitars, in London's Denmark St), who was doing a similar round. When Chris finished college in '78, the duo started Chris and Andy's Guitar Workshop, in High Bridge St, Newcastle.
'Andy and I were in partnership for about three years and it was then that Overwater began,' he recalls. 'Andy had his cellar shop in Denmark St, as well, and so in 1979, I was already building guitars and basses for both shops - and they had ether Chris and Andy's or Andy's Custom on the headstock. There's a few of those still knocking about, actually.
'Andy lived up at Alston at that time and Cumbria Council had built some new units there and they promised us all sorts of deals if we'd take one on. So at the start of the worst winter of the second half of the 20th century, I moved to a workshop that was 3,000 feet above sea level!'
Now starting to sell instruments to other shops, it was no longer politic to call them after their own retail outlets, so the hunt was on for a name. 'The village just outside Alston was split into two halves, with the river down the middle. The locals called the side where our little factory was, Overwater, so one night in the pub, as you do, we decided it was going to be called The Overwater Guitar Company.'
Almost the first instrument produced was Chris May's take on a Thunderbird-like bass, with a heavily offset waist. It was a success right from the start, particularly among Rock bassists who liked the look and approach of a T'Bird but couldn't get on with the way the headstock threatened to crash to the floor the moment it was no longer supported. Unlike the Gibson, the Overwater balanced!
'I liked that through-neck idea that the Thunderbirds and Rickenbackers had and, basically, that first bass was just that - a Thunderbird that balanced - with Precison-like horns on it. It got more sophisticated than that, later, as the curves got smoothed down and so on, but that was the inspiration - the Thunderbirds and Precisions, which were very much the basses of that era.'
Initially making a few waves among the Folk-Rock fraternity (Steeleye Span's Rick Kemp was an early user), by 1983, Overwater was on its own, the Chris and Andy partnership having been dissolved just as, Chris puts it when: 'The whole bass thing had really begun.'
This was the era during which bass players finally began to assert their need for instruments that were something more than bass versions of whatever instruments guitarists were playing. Initially sparked by Alembic in the USA, the flames caught this side of the Atlantic too and soon there was an entire mini-industry of British luthiers producing some really fine instruments, among them, WAL, John Diggens (of JayDee fame) and Overwater. 'Bass players were suddenly a lot more open to new ideas, like active electronics, and that combined with the desire to use exotic woods and to experiment with new designs is what enabled us lot to get going. It was much the same in the States, where people like Roger Sadowski, Ken Smith and Mike Tobias were getting going, too - we were all the same generation.'.
As the new breed of basses came along, so did a huge change in playing styles, one development feeding the other and, although Overwater had always offered guitars too (originally selling, if readers will forgive the pun, neck and neck with basses), suddenly it was demand for four string Overwaters that was setting the pace.
'That was a really important period. I remember going to visit a shop called Soundwave, in Romford, run by Alan Morgan and Fred Freidlein. I was amazed when I walked in and saw it was just filled with basses - it was probably the first all-bass shop in the world. That was where Trace Elliot started, being made in the back of the shop, and they had Rob Green, who later began Status, doing repairs. It was a very formative period.'
It was during this period that Overwater first established itself with a customer base in which it is still probably the leader today - the London-based session players. This is significant for two reasons - first, because it has helped keep the company in business (!) but also because of the effect it has had on the development and style of the basses, themselves.
'Probably the first of those customers was Andrew Bodnar, who was a busy freelance and was also in Graham Parker and the Rumour. Andrew had started working with the Thomson Twins and because of that was suddenly playing with synthesisers and decided he needed a bass that he could tune to C. Five string basses were virtually unheard of then - certainly in Europe - so Andrew asked me for a bass that was tuned C, F, B flat and E flat, but you couldn't get strings. So I went to Rotosound, who were always very friendly, and got them wound from about 120 up to 140 in a few thou variants to see what would work. But I was never really that happy, even with the 135 gauge string, as it always sounded a bit plummy to me.
'Anyway, Andrew had asked me to make a fretless, so that's what the prototype was and in a moment of revelation one day, I unscrewed the bridge, drilled a few holes, moved the bridge back and suddenly had a 36" scale that really worked very well. Andrew agreed, so I built him that: the first Overwater C Bass.
'Some while later I was on a Rotosound stand somewhere and found myself chatting about this bass with someone who I vaguely recognised but couldn't put a name to. We talked at length about it and in the end I asked him what he did. He said he played guitar but also a bit of bass and we left it at that, As he walked off, someone standing behind me said "You do know that was David Gilmour, don't you?". I thought that would be that, but a few weeks later the phone rang and he wanted to borrow one to try. There was just one in existence, Andrew's, so they arranged to borrow that and the following week I got a call, asking me to build one - and he even asked how much I wanted for it! In those days superstars used to expect them for free! So I made one for Mr Gilmour.'
Now, the C Bass began to take off: 'Entwistle had one and Guy Pratt had one and Bill Katz had one - all these players who knew they needed to go lower and who either didn't want more strings, or didn't know about more strings, started to buy them. But the owner of number three, Mickey Fiat, then said he wanted a five string - and that's what we did: basically it was a C Bass with wider neck and that was Number One - maybe in '84. Its first outing was some of the bass playing on Tina Turner's Private Dancer album.
'After that, the C Bass stopped - people suddenly weren't frightened of having more than four strings then.'
By now, Overwaters were starting to be common fare in orchestra pits in the West End, as well as being toted round recording, broadcast and TV studios in the hands of top session players. And they had started to sell to Jazz stylists, too - both groups of players valuing the Overwater's innate musicality, as well as its sheer woodworking quality.
'In 1985 we launched the Progress bass and that's how we came to work with dear old Mo - Mo Foster - one of the last of the great session bass players. Mo had one of the first of our Progress five strings in the mid-80s and from then on that became our world. Phil Mulford, who is today one of the top few West End guys, was then a young Jazz player and he commissioned two six string basses - fretted and fretless - and that was the first six string we'd made.
'Suddenly we were in that world populated by people who played anything for money and Jazz for fun.'
In one sense, Overwater's fortune was almost a limitation. Loved by discerning players for their subtleties, they perhaps weren't up-front enough for the Rock market. 'Yes, that's true,' Chris May says. 'Our basses were always players' basses and they still are, I think. The 1980s was an exciting time - the whole bass world was a sub-culture and about 1989-1990 we were at our maximum production, about 20 basses a month. But it was getting a bit hairy from a personal point of view, a lot of business mistakes had been made, a couple of key guys had left and so we decided instead to concentrate on making fewer, better instruments, for which we could charge a bit more - in effect we downsized. It was the most sensible thing I ever did and really helped us survive the '90s recession and that period when a lot of players started going back to Precisions and MusicMans and so on.'
Chris had also started accepting consultancy work, including a commission from Aria - which is why you will occasionally find an Aria with the Overwater name attached, too.
In the mid-1990s, Chris had moved the company once again, this time to Carlisle, where it remains today. By now Overwater was making the Progress Series 2 and, in keeping with the move to slim-down production, had switched back to a through-neck design. The original Progress had featured a glued neck to accommodate easier production in greater numbers, but Chris has always felt happier with through designs. Working with Haydn Williams, who has been with Overwater since around 1990, and Laurence Blackadder, Chris May now has a small production team, making instruments largely to private order and for a small handful of specialist retailers. There are new models, too - like the J -Series (no prizes for guessing what these are) and the extremely distinctive Expression semi-acoustic basses.
Get Chris May talking about design philosophy for bass and you are in for a master class - but more of one than there is room for in a single magazine article. None the less, ideas spark out of him still, despite his 25 years at the workbench. He has just made his first eight string bass, for Kevin Glasgow, and talking about it, his enthusiasm shines through, showing why he is still there, making basses. 'Our business has always developed through players and it's the thread that connects all these instruments - Mickey saying I want a five string, Andrew saying he wanted a C bass, Phil wanting a six string or Kevin wanting an eight string. We have never sat down and said "How do we bring out a new model for this year?". We've always been player led - even with the J-series which we made because we were asked to, by Mark Knopfler's bass player'
The current big news is a move back to making more affordable basses for those who cannot justify spending more than £2,500 on a bespoke instrument. These are the Perception models, which will start at around £1,300. At present, Perceptions are being built in the UK, but some of the work will soon be being done in the Czech Republic - the home of quite a few other fine bass instruments - with some assembly, finishing and setting-up being undertaken in the UK. It's early days yet, Chris says, but Perceptions should be becoming more widely available later this year.
'I've always approached basses as a purist in that, fundamentally, the tone comes from the wood and, unlike a lot of modern instruments, I try not to over-use technology. The reason why we've always used the Kent Armstrong pickups, for example, is because they are very reflective - they have power and they have output and dynamic range, but basically they pick up what the guitar does, whereas a lot of the other pickups were originally designed to make average basses sound better. That's not what I'm looking for. Bolt an EMG or a Bartolini on an Overwater and the two will fight each other. It's like when a player asks you if he puts five pickups on a bass will he get Jazz Bass and Precision and MusicMan's sounds? No, because a Jazz bass sounds like a Jazz bass because of what it is - the sum of its parts. All the elements matter, which is why we still make our own bridges, even though, frankly, it's a pain in the arse for us - but they are part of the whole. They are things we've developed as part of a whole Overwater bass. There is a certain black art in this that isn't technical - it just evolves over the years.'
All that.. and still we hadn't touched on Chris's views on the very wood that makes the sound he is so caught-up in! Perhaps we will come back to that another time - certainly we talked for long enough to make an entire article just about woods and hardware the different ways they interact - but for now it's probably enough to say that even after 25 years, an Overwater today is better than ever and that Chris and his team haven't even begun to run out of either enthusiasm or fresh ideas.
Ends.